VERMONT'S DOG MOUNTAIN
Stephen Huneck's Enduring Monument to Dogs of All Breeds



Text and Photos by Josephine Matyas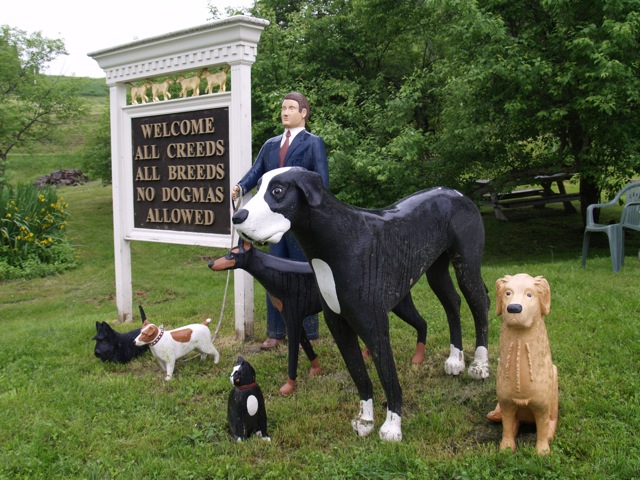 The sign outside is simple:
Welcome all creeds, all breeds, no dogmas allowed.
"It's beautiful here, but most people come for the chapel," says the young woman manning the small shop at what is the most popular tourist attraction in northeastern Vermont. The expansive store where she works is filled with dog-themed artwork, books and housewares.
A few steps away, I enter the miniature New England-style chapel to find walls covered with hand-written messages of love; but these are no ordinary love letters. They're written by dog owners to their furry friends - messages penned by thousands of people who have visited the small chapel at Dog Mountain and left poignant reminders of how their dogs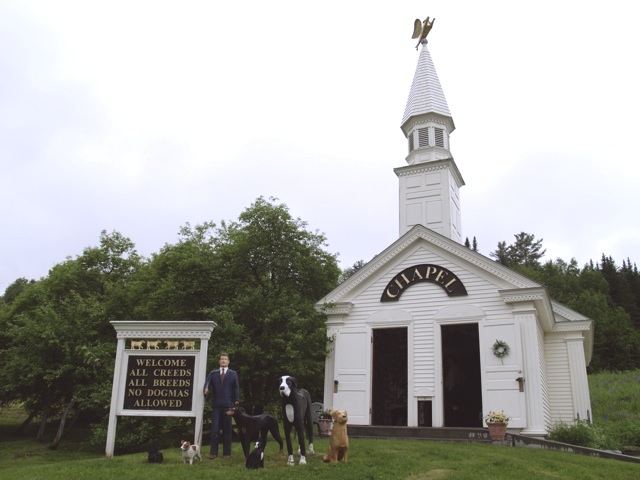 came into their lives, and how they left.
The letters cover every square inch of the chapel walls: thousands and thousands of hand-written notes and photographs; scraps of memories and emotions written from visitors to their canine companions. They are called the
Remembrances of Dogs Loved and Lost.
The small chapel sits on a verdant hillside just outside the town of St. Johnsbury, Vermont. Dog Mountain (an expansive property of hills, fields, dog ponds and walking trails) is the home of Gwendolyn Huneck. Her late husband, the artist, author and woodcarver Stephen Huneck, maintained a studio in this wildflower-splashed, countryside setting. Huneck is well-known across the northeast for his series of colorful books featuring Sally, his beloved Labrador retriever.
In 1994, after a near-death experience, Huneck awoke from a two-month coma with the compelling vision to build the Dog Chapel. "A place where people can go and celebrate the spiritual bond they have with their dogs," wrote the artist, who passed away in 2010. "Dogs are welcome and there are always a good supply of treats on hand; a small gesture to thank dogs for all they give us."
Stephen designed the Dog Chapel to resemble the quintessential, white clapboard Vermont village church, circa 1820. The 150-acre property sits at the end of a dead-end road. It was the artist's hope that dog owners would bring their dogs with them, walk the forest trails, smell the wildflowers, enjoy the dog ponds, and play on the hillside agility course.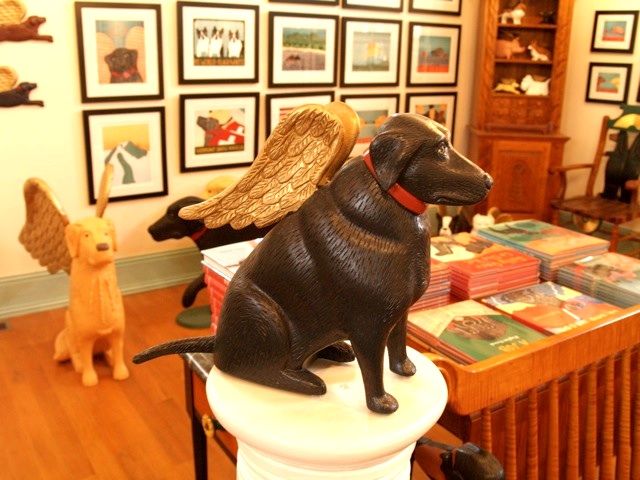 "The white steeple points up to the heavens," wrote Huneck, "and on the top is a Lab with wings that turns in the wind and proclaims this place has a special affinity with dogs."
There is no leash law on Dog Mountain and no charge to visit. Dog Mountain depends entirely on donations and gift store purchases to keep it free and open to the thousands of dog lovers and their pets who visit each year - some from as far away as Japan and Alaska.
Daylight streams in through the stained glass windows; the hand-built wooden pews bookended by life-size, wooden carvings of dogs, sitting at the ready.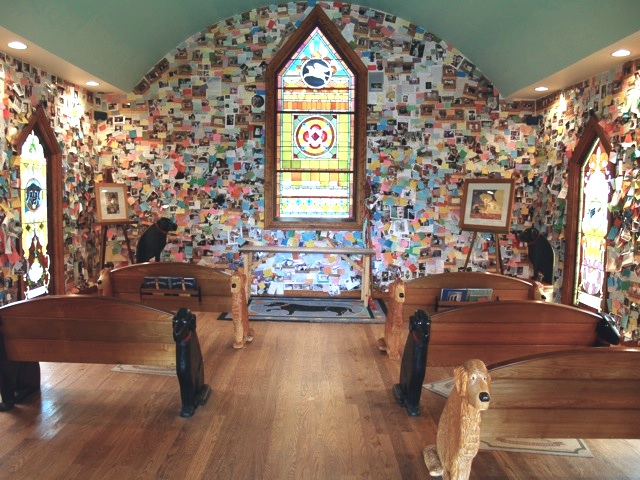 Soft music plays - in harmony with the surroundings designed by Huneck to affirm the connection between art, nature and spirituality.
It's rainy on the day I visit Dog Mountain so I sit in the small chapel for a while, admiring the beautiful stained-glass windows and agog at the number of moving tributes people have penned to the dogs in their lives and feel an overwhelming sense of loss. It's been over a decade, but I still miss the two dogs that were a big part of my life, and of my sons' lives.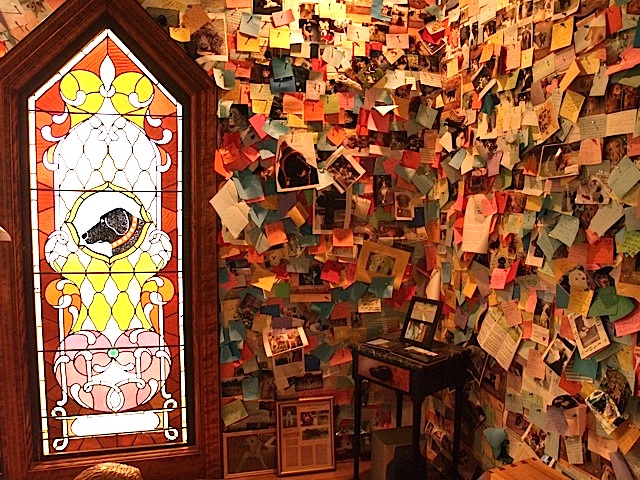 After a few minutes, I stand up to leave, but first stop to write my own message to my two departed Labrador retrievers. I walk back to the car, tears in my eyes and a lump in my throat. Thankful for a place like this. Thankful for all that my pets have brought to my life, and to the lives of so many others.
FAST FACTS
Dog Mountain and Dog Chapel
143 Parks Road, St. Johnsbury, Vermont
800-449-2580

www.dogmt.com
Couples – and their dogs – needing a getaway and to unplug from their hectic work lives, can now book a stay at the Dog Mountain Healing House Retreat. The one-bedroom Healing House is fully equipped with kitchen, Jacuzzi tub and therapeutic dog beds. Massage treatments (for the owners) can also be arranged. Details are on the Dog Mountain website.



The books:

Stephen Huneck wrote 10 books inspired by his black Labrador retriever,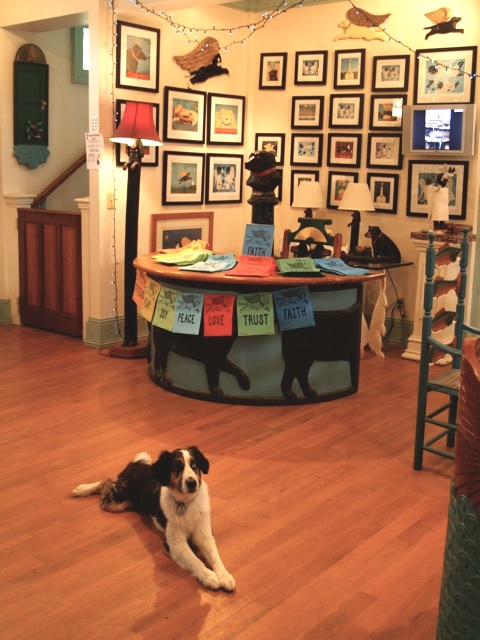 Sally - all of which are extremely popular, and are sold in stores throughout the region, including the shop at Dog Mountain. They are also available through the Dog Mountain website.