AMBOSELI - THE HEART OF KILIMANJARO
African Animals Abound at this Kenyan Wildlife Park
Text and Photos By Bill Pfeffer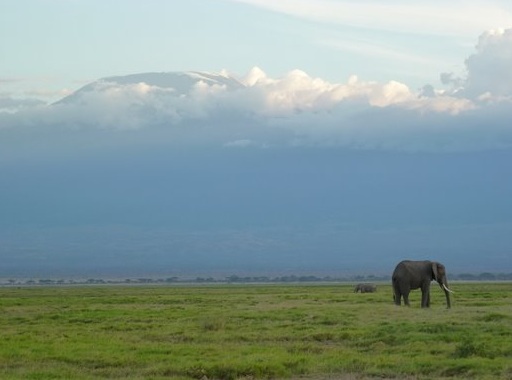 It's easy to see why Amboseli is the second-most visited park in Kenya after Masai Mara. Situated at the base of Mt. Kilimanjaro, it offers access to large herds of elephants framed by the largest freestanding mountain in the world.

Known as the 'Heart of Kilimanjaro,' Amboseli appears to be a dry, arid wasteland. However, it's layered with vast swamplands that are regenerated by the melting snows of off the mountain's peak. In turn, these wetlands promote an immense concentration of wildlife; moreover, because of the flatness of the area, they're easy to spot.

Still, Kilimanjaro dominates the horizon, attracting swirly cumulus around its rounded peak, as if to wrap them around its shoulders to ward off the chill from diminishing glaciers. Throughout our stay at Amboseli, the mountain would play peek-a-boo through the clouds, teasing us with a glimpse of her summit.

Elephants, caked in mud, wander the landscape. Indeed, more elephants than we have seen at any other park in Kenya. The generous aquifer, fueled by Kilimanjaro, is the perfect habitat for elephants and hippos.

We stopped to let a group of about ten elephants pass in front of our van. As we waited, the bull elephant became agitated by our presence,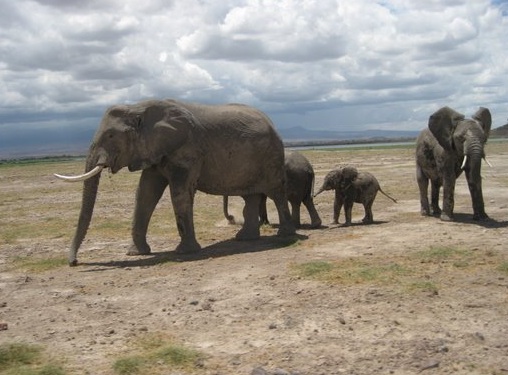 and began displaying signs of aggression - ears forward and rapidly flapping, trunk probing the air. We all understood the primal body language to back off. Our guide, Okeno, fearful of a bull rush, quickly reversed our van away from his threatened space.

Do not expect to see many cats at Amboseli. The flat, sparse vegetation provides meager cover for animals of prey (lions, leopards, and cheetah). They patiently lie in wait for the right meal to pass, so it's tough to spot them - you won't see them walking around as you might at other reserves.

On one of our game drives, a cheetah hunkered down in a clump of dry grass while a herd of gazelle grazed 50-feet away on green vegetation. Even though we knew which clump hid her, we still could not see her unless she made some kind of movement. Soon, a group of zebra headed towards the cheetah and it seemed that one of the zebras was going to step right on top the hidden cat.

Zebra are too large an animal for one cheetah to bring down, so she let them pass and continued to wait for the smaller gazelle. The gazelle were smart enough to sense impending danger and kept their distance, though they did seem to get dangerously close at one point.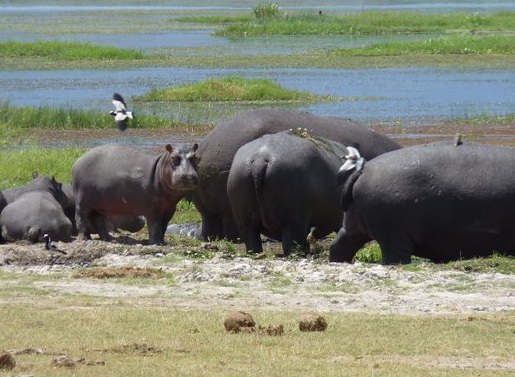 The swamps of Amboseli are home to many hippos, which stand along the banks in their chubby bodies, staring as if they have impaired vision. Their sensitive skin precludes them from spending time in the heat, and they stay close to the water, where they cake themselves in mud or submerge when the sun gets too hot.

We climbed observation hill - the highest point in the park - and looked over the vast expanse of Amboseli to see ribbons of green splattered across the dry, dusty landscape. Herds of elephants peppered the park, hippos lined the water, zebras and gazelles nibbled where fresh, green vegetation blossomed.

Amboseli is Swahili for "land of dust." Unusual occurrences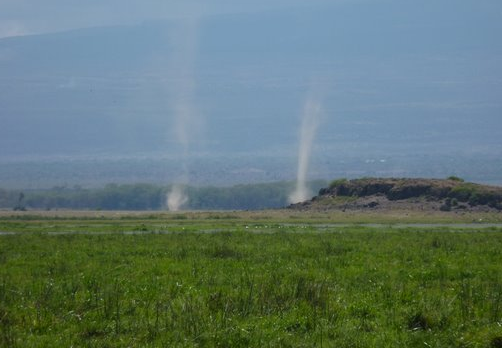 are the spontaneous mini-tornadoes that twirl across the grasslands. These swirling little storms crawl across the surface, vacuuming plumes of dust into the atmosphere and then disappear just as quickly as they began.

While visiting Amboseli, we stayed at the Sentrim Lodge: our favorite accommodation of all the lodges we stayed at in Kenya. It's described as a tent-cabin, but is more a cabin with a tent thrown over the top for effect.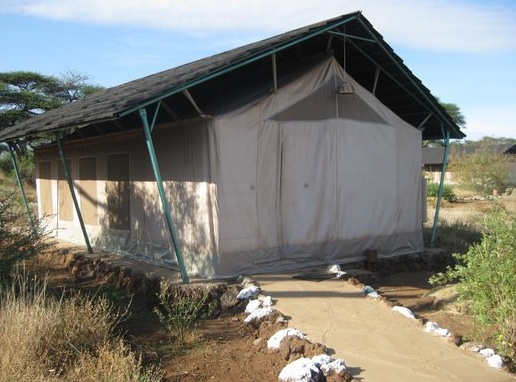 With its slate floors, mini-kitchen, king bed, tile shower...it was very comfortable. Moreover, the sides zippered open like a tent, so at night you could get cross ventilation.

Throw in a pool, an open-air food court and bar, and you have the makings of a perfect safari destination - at the bargain price of $160 for two people (which included all meals).

From Nairobi, it's about four hours by car. The roads are rough, and Amboseli lacks a certain appeal as you approach. Nevertheless, the looming mass of Kilimanjaro draws you in, and, by itself, is reason enough to visit.

Amboseli is dramatic - a contrasting landscape under the shadow of Kilimanjaro. If you want that perfect, iconic image of an elephant against the backdrop of the world's largest freestanding mountain, you need simply visit Amboseli.



If You Go


Safari arrangements were made with Brayogo Safaris. Okeno, the owner, is honest, knowledgeable, and fairly-priced.

We visited during the 'short rainy season' of early November. Weather was perfect, temperatures in the 80's, with brief showers in the afternoon.

Sentrim Lodge was wonderful: a great value, and well located within the park.



Authors note: Amboseli, paired with Masai Mara, would be a good two-stop safari in Kenya.