A SAMBURU SAFARI
Giraffes, Elephants and a Dik-dik in Kenya's National Reserve



Text and Photos by Bill Pfeffer
At the entrance gate to Samburu, soldiers stood guard with AK-47 rifles; not exactly a welcoming sight. Dry and dusty, the area behind them seemed like a lonely stretch of road through Nevada.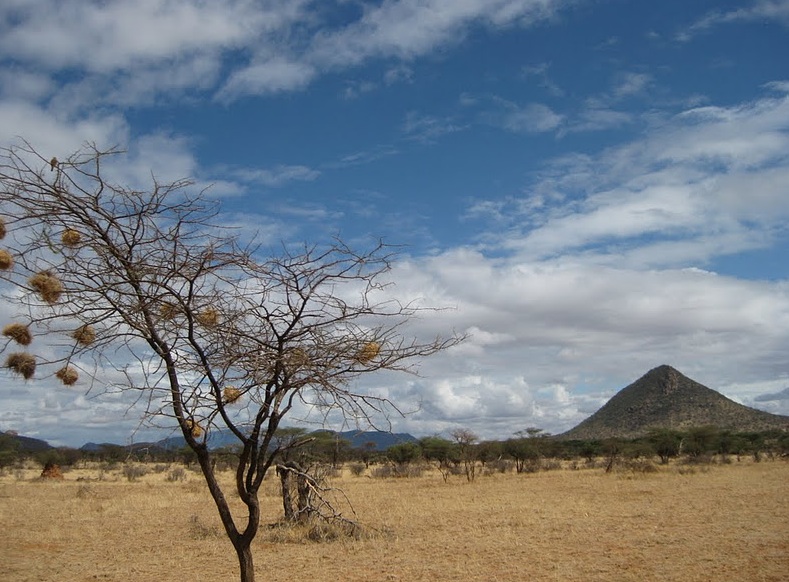 P
ass
ing through the gates I wondered,
What would attract any living creature to live in this harsh environment?
After a twenty-minute drive across washed-out gullies, we arrived at our destination: the Sarova Samburu Lodge, a resort oasis flanking the muddy Ewaso Ngiro River.

Natural springs percolated throughout the property and drained into the river. Muddy crocodiles sunned themselves on rocks and waited for the nightly 'feed the crocodile' hour, a daily event when leftover food is dumped onto the banks under a spotlight. Local Samburu natives in red garb were outfitted with slingshots and guarded the open-air dining area from mischievous monkeys looking for a free lunch.
For two days, we made game drives into the bush - once in early morning (6:30 to 9:00 am), and again in the evening (4:00 to 7:00 pm). Dirt roads traverse the park, and eventually lead down to the river, where the majority of the animals congregate.
Our safari van was equipped with a pop-up roof, which allowed a 360-degree field of vision. Other, less appealing vans had six or eight people in window seats. Our van also had 4-wheel drive and a protective iron plate on the undercarriage. Because of this, we were able to tackle rougher roads without worrying about being stuck or scraping off vital engine parts.
The first evening we watched two graceful reticulated giraffes feeding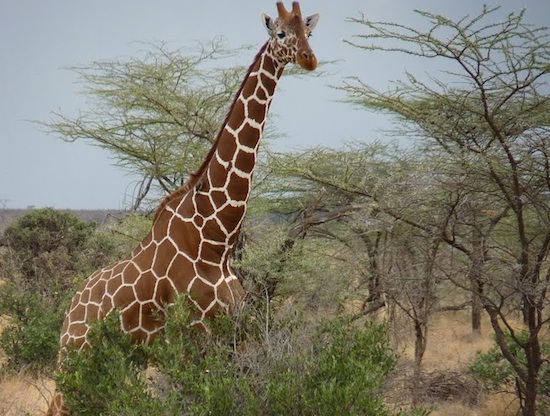 on acacia trees. If ever there was a square-animal in a round-animal world, it is the giraffe. Totally unique, they move in slow motion through the bush; it's hard to imagine them being related to any other animals.
The following day we headed over to the river to find elephants. As we drove along the bank, a group of 30 elephants were headed in the opposite direction. We stopped and let them pass, along with a herd of monkeys that trailed along. Their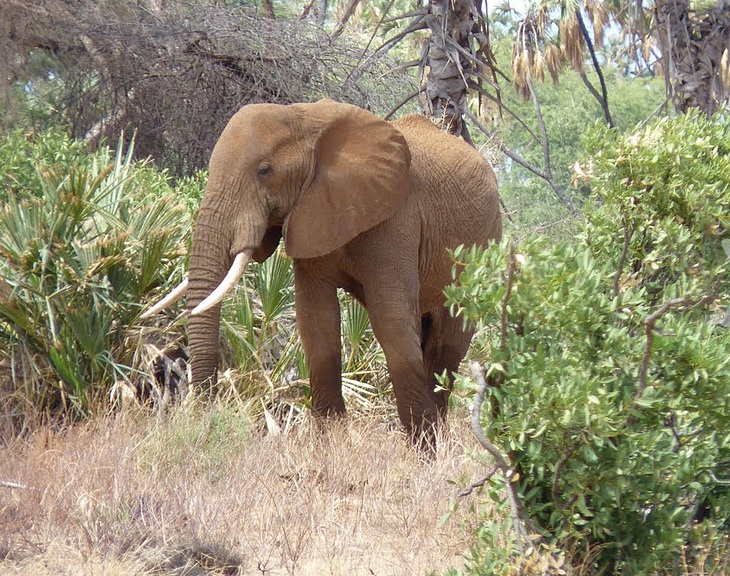 mothers closely guarded a couple of baby elephants. As they stepped within a matter of feet away from us, the mother elephant kept a careful eye on our van.
On these sojourns out into the bush, Okeno would tell stories of his homeland. There are 42 tribes in Kenya; Okeno is from the Kisii tribe, known for their skill in carving soapstone. Besides being a skillful carver, he can weave an interesting story. A favorite was the tale of the spunky dik-dik, an unlikely cross between a rabbit and an antelope. When a lion poops in their territory, the dik-dik immediately defecates on top of it - their way of saying, "Screw you Mr. Lion, this is MY territory."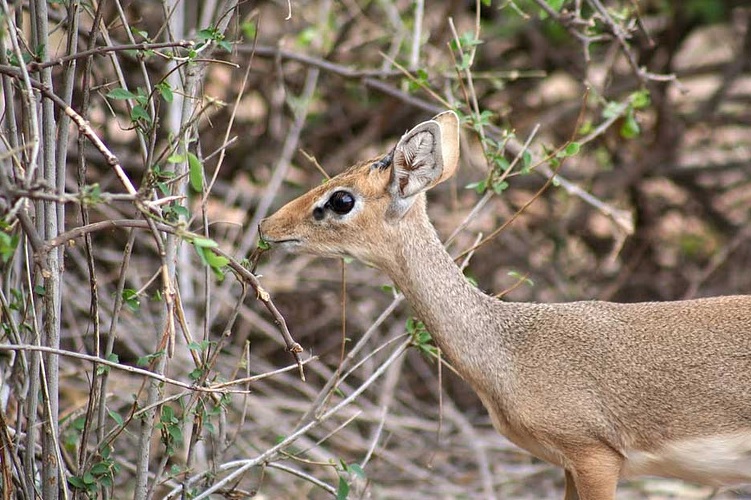 The dik-dik is too small a meal for the lion to bother with, so you could consider this a great sense of false bravado.
Stopping along the road, Okeno stripped a small branch from a bush and broke it in half. Frayed on the ends, it is used as a toothbrush in Africa and even contains a form of antiseptic known to prevent gum disease. Fittingly, it is known as the toothbrush bush.
On our return to the lodge, a soldier asked for a ride. Evidently, he'd just spotted a leopard and was paranoid about walking two miles down the road at dusk (even with a gun). Slowly we crawled along, our binoculars scanning the scraggly vegetation. Our first park and already a chance to see a leopard!
After 30 minutes, we arrived at the electric fence surrounding the lodge and realized it was not our time to spot this elusive animal...maybe tomorrow.
The area around Samburu is overrun with Somalian immigrants, people that Okena says "have something wrong with them." During our visit, Shaba Reserve was closed due to an outbreak of banditry. There is an air of lawlessness in this part of Kenya, along with a substantial military presence.
Even the newer Somali immigrants avoid other Somalis. Rather than pass through Somalian territory in Kenya, they will walk over to the Ethiopian border and follow it down before crossing into Kenya. Who even knows where one country starts and another begins?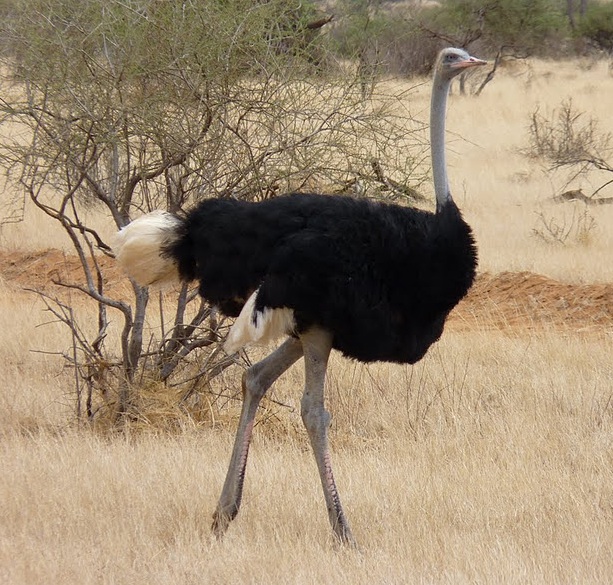 Samburu
is
a stark, rugged place, where the animals are wilder and less managed than at other parks. Most travelers on safari visit Masai Mara and Amboseli, both within a few hours of Nairobi.
But for the adventurous traveler, at Samburu, you'll pretty much have the place to yourself - making the long journey to get there all the more worth it.
FAST FACTS
Samburu National Reserve, located in Northern Kenya, is one of the least visited parks in Kenya. Known for its elephants, giraffes, and giant termite mounds, it is actually three parks in one: Samburu, Buffalo Springs, and Shaba.

Getting to Samburu involved a long day's drive from Nairobi, and admission was steep: $40/person per day (a common price tag at all the national parks in Kenya).
We made safari arrangements through Brayogo Safari. Okeno, the owner, picked us up at Nairobi airport, handled all the bookings, transported us to the national park, and over the course of two weeks, introduced us to this fascinating country.