CREATURE COUTURE
Fashion Designer Jordan Creates Works of Art on Fabric



By Jeannine Clark
"Nothing is worth wearing if it doesn't feel good."
--Jordan
Floor to ceiling windows allow the late morning light to shine into Jordan's showroom. Racks of hand-dyed and hand-painted silks, chiffons, jersey knits and denim are on display before an admiring bunch of well-heeled ladies, anxiously awaiting the beginning of the fashion luncheon.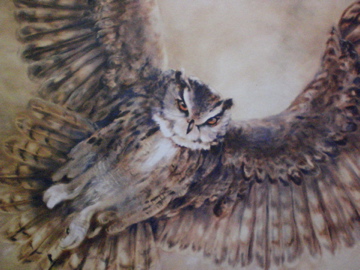 Jordan, the hostess of this fund-raising event, is best known for her life-like, hand-painted animal prints on luxury apparel. Bold lions, graceful elephants and striking cheetahs practically leap from the fabrics of her one-of-a-kind designs. One of her first celebrated designs was of a tiger featured on a matte jersey gown in
Town and Country Magazine
in 1976. (Jordan's fashions have also been featured in
Vogue, Harper's Bazaar
, and
La Official
.) Her couture line has been sold at Henri Bendel, Bergdorf Goodman, Sakowitz, and Neiman Marcus, to name a few.
After the luncheon, Jordan leads us through a Martha Stewart-style demonstration of how to hand-dye plain fabrics into works of art. She shares her story along with a show-and-tell process of dipping white silks into a large copper pot filled with a "secret" hot water bath solution. Jordan explains that once the fabric is washed and dried and dipped repeatedly to achieve the desired color and effect, she then hand-paints or stamps animals or feather patterns onto the fabric.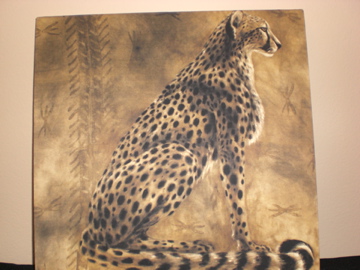 The process is time consuming, often beginning as an idea on canvas first; the finished product truly a labor of love.
Inspired by her love of wildlife (and her disdain for big game hunting), Jordan began honoring wildlife on fabric when she couldn't find a canvas big enough to capture her vision. In her early, married life in Beverly Hills, Jordan wanted to add color to a large, two-story wall in her home, so she tacked up a massive sheet of fabric and began painting. Her unique designs were born and her career in the fashion industry moved forward quickly.
Big success often brings even bigger challenges, and Jordan's was no exception. Between trips from the U.S. to Tokyo, Jordan met an abandoned calf during a respite on a friend's Arabian horse ranch in California. There she discovered everything she thought she knew about cows was untrue, stating, "I used to believe that cows had a full set of teeth, were stupid and automatically made milk."
Serendipitously, at about the same time she became disillusioned with the fashion industry, so the decision was made to leave the fast lane (and her two-pack-a-day habit) to regroup and start over. Jordan adopted the calf, named her Bambi, and found a secluded "little piece of heaven" in the California hills for her, Bambi and a plethora of homeless horses, dogs, cats, coyotes, birds, and any other abandoned or wounded creatures in need of a refuge. It was during that time she made the commitment to care for those in the most need.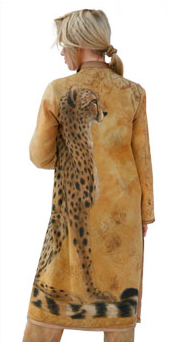 With a soft place in her heart for endangered animals and wildlife conservation, Jordan created a t-shirt line, donating a large portion of the proceeds to specific animal conservancies. (For example, the cheetah designs benefit the
Cheetah Conservation Fund
.) Many of Jordan's designs also benefit
Joan Embery's charitable
work, and can be purchased at the San Diego Zoo.
Jordan also organized a non-profit business that enabled her to hire female assistants, changing her marketing focus to concentrate primarily on her art couture collection. And once she realized there was a group of women whose needs had all but been ignored by the fashion industry (the still very active and powerful woman over 50), the concept of a private clientele business was launched.
Jordan knew that successful women recognize quality of design and appreciate originality, as well as individualized service; so she caters to women of style and substance. (Or, as she says, "the forgotten woman over 50.") Jordan Art Couture's mission is to create timeless art apparel for the customer to collect and wear for many years.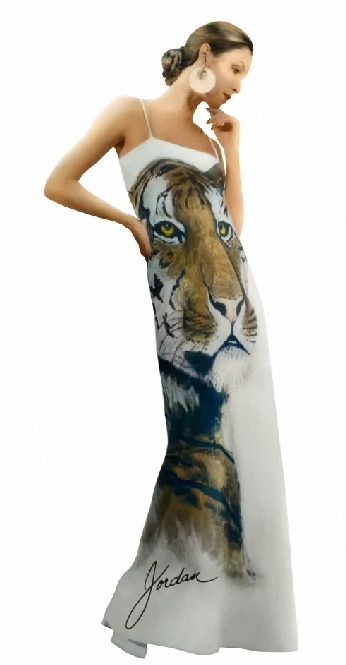 Produced in an artist's studio, not a factory, Jordan creates everything she designs. From a customized manikin to fit specific measurements, to the cascading chiffon on an elegant dress, Jordan's custom couture designs are individually suited to her clients' bodies and tastes. Even the bold, cotton animal t-shirts are screen-printed and over-dyed by hand, one at a time.
"I (used to) believe financial security was the answer to peace of mind," says the designer. "Now, I understand that the sharing of love is the answer."
FAST FACTS
For more information about Jordan and her designs, visit:
www.animalfashionsbyjordan.com





Photo credits: Jeannine Clark; AnimalFashionsByJordan.com